-Posted by D. Worth (US) | for- M. Barbay (France)
Taking time to Denounce IAEA
But Refusing to Substantiate?#
Image: L.F. New deputy commander & Brigadier Generals
Iran claims to be denied the right to develop nuclear energy; while Rejecting Russia's Proposal on Uranium:
Story
.
Civilian Robots?
VIDEO
.
And the "Nuclear Issue and Iraq"
How-to's
Iran holds back nuclear details, IAEA says
CNN International
-
5 hours ago(CNN)
-- Iran is still withholding critical information that could determine whether it is trying to make nuclear weapons, the International Atomic Energy Agency said in a restricted report.
more.
-
Iran Withholding Atomic Weapons Research, UN Reports
Story.
Accountability: This Regime created scrutiny amongst the community; and refusal to comply with the governing agency, intensifies concern. Evidence indicates that this region was already once the site of Ancient atomic wars.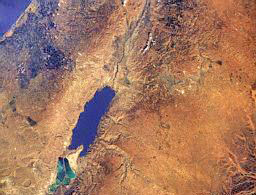 Area surrounding the Dead Sea has been found to be contaminated with radioactivity, "enough to induce sterility and allied afflictions in any animals and humans that absorbed it over a number of years"
Source:
Blake: The Palestine Exploration Quarterly
"It was a time when civilizations simply "disappeared from the pages of history."Iraq should address 'solutions' in this find:
Iranian-made strategic missile: Falaq-1. Falaq-1
story
and
#.
The discovery of this weaponry met Iranian's denial; but curiously lacked their concern for fate of the community... Why is this? If launched at a target, it could obliterate an entire city & kill inhabitants in the
tens of thousands.
An Iraqi resident has reported the following information about the found rocket, provided by "intelligence officials."
The discovery of this strategic rocket in Basra, received a defensive response by the regime, but not a logical posture. Article.
Feedburner | Political Barbay
Refresh to view comments:here
Add to Technorati Favorites