-Posted by D. Worth (US) | for- M. Barbay (France)
Brilliant Int'l Scientists from NASA and ESA
. Comprised of a host of Nations, contribute to the technological evolution of mankind...
(image: Rob Gutro)
NASA's
GLAST:
Powerful space observatory to explore the most extreme environments in the Universe. We're: France, Germany, Italy, Japan, Sweden, and the U.S. research tech!
Sir Aurthur Clark and Carl Sagan would have been uniquely proud...
Though I suspect they had a hand it all of this, somehow... :)
As the Renaissance continues...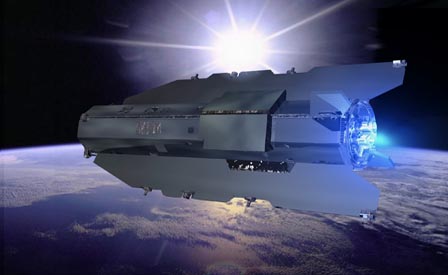 Space.com has a must read article:
Always Look on the Bright Side of Life:
##
Image: GOCE
(Courtesy of)
ESA
Nation Contributors (not listed) except "Great Netherlands" and perhaps Russia? Lovely Gravity field and steady-state Ocean Circulation Explorer, it will be!
It is an opportunity of a life-time for the development of individual Scientists, to be the new "Scientific Greats" of our Age! On a journey to bend the Laws of Physics...
(Will add more later.)
Feedburner | Political Barbay
Refresh to view comments:here
Add to Technorati Favorites