-Posted by D.C. Worth, for Barbay (France/US)
Creepy, but interesting how this works...
One function of a bird, can prevent the loss of dozens of plants and species.... And this 29 pound bird with a 9- 1/2 foot wingspan, is no exception....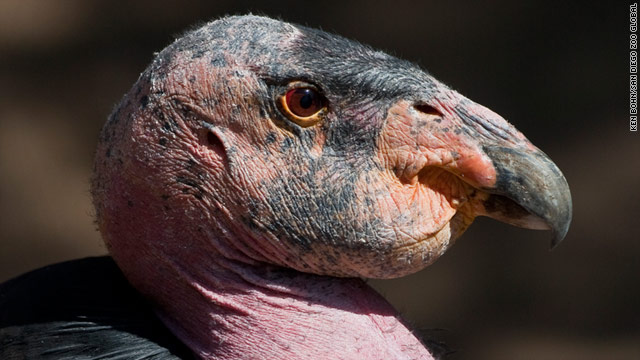 Because the bird is active in parts of California, Arizona and Mexico, about 50 other endangered animals and plants are able to thrive -- thanks to the condor.
[Read]
-Image:
[Ken; S. Diego Zoo]
I was more than a little shocked to find this video....
New to driving, I nearly steered off of a steep cliff at Grandmother's house; when this bird intentionally flew at the tiny windshield of the Land Rover Defender 90, jeep...
(cont. below)
California Condor from Don DesJardin on Vimeo.
(cont.)
Unharmed, he then flew to a branch of a tree, and just stared....
At the time, I thought it was a HUGE flying turkey; but now, it poses a few questions...
And certainly cast a distinct "dark shadow" overhead....
"Once nearly extinct, the California condor nears new milestones:
Four breeding centers are now hatching condor eggs: the San Diego Zoo, the zoo's Safari Park, the Oregon Zoo in Portland, and the World Center for Birds of Prey in Boise, Idaho." [Read]
Today's Links....
VIDEO:Paul Wags; Lovely Ningaloo Reef!
[VIEW]
-Marine life 'flourishing' at Lamlash reserve:
[Read]
VIDEO: World's Biggest Gathering of Whale Sharks!
[read]
Friendly with humans; like swimming w/ a spotted gown.
[View]
Omygosh.... Shark without teeth??... (Haha)
[VIDEO]